Advice, valuation and sale of real estate in Dortmund
Whether you want to achieve as much as possible as a seller of your property in Dortmund and the surrounding area or want to pay as little as necessary for a property, my work as a real estate agent always focuses on you as a customer. Thanks to my wide range of services, my competence as an architect and real estate consultant (IHK) and my many years of experience as a sales manager for real estate at Postbank, you have found the ideal contact person for everything to do with your property.
Real estate at the best price
As a seller, you get as much as possible for your property. As a buyer, you pay as little as necessary. At the end of our work you will receive a contract with which everyone involved is satisfied.
When selling, buying or renting real estate, you shouldn't leave anything to chance and get professional advice. Save yourself the stress and hassle of buying the wrong property at the wrong price. The close cooperation with financing consultants guarantees the affordability of the property for the buyer and gives you the security of getting your money.
As a team, we then take care of real estate sales that are optimally tailored to your goals, in which all parties involved, buyers and sellers, are ultimately satisfied.
Real estate agent in Dortmund
Would you like to put your property for sale in good and competent hands? Then contact me. I will assist you with your property sale in Dortmund with advice and action. I am happy to help you and look forward to your call.
Your

Would you like to sell your property in or around Dortmund?
Selling real estate successfully with a professional real estate agent.
Also with the purchase of real estate in Dortmund I am at your disposal with my competence as an architect and real estate consultant (IHK).
If you have any questions about the value of your property, I am at your side professionally. From the free market price assessment to the creation of a marketing concept to the real estate appraisal, you receive all the necessary information about your property.
Convince yourself of my recommendations on Makler-Empf Recommendation.de.
Kompetent und reibungslos
Ich bedanke mich auf diesem Wege für die äußerst professionelle und freundliche Betreuung - vom ersten Kontakt bis zum Notartermin. Ich bin sehr beeindruckt von der Menschlichkeit, Geduld, Zuverlässigkeit, Kompetenz und ständige Verfügbarkeit rund um die Uhr. Absolute Empfehlung!
Professionelle und kompetente Verkaufsabwicklung
Frau Bischoff hat mir dabei geholfen, meine Eigentumswohnung zu verkaufen. Der Verkauf ging sehr schnell über die Bühne. Nach dem Erstgespräch hat sie sich um alles gekümmert, hat auf Nachfragen schnell reagiert und mich über den Verkaufsablauf auf dem Laufenden gehalten. Das Expose und die Fotos waren sehr gelungen und haben sicherlich zum schnellen Erfolg beigetragen. Der Besichtigungstermin war gut organisiert und mit den von ihr ausgewählten Käufern war ich sofort einverstanden. Zum guten Schluss unterstützte sie mich dann auch noch bei dem Notarstermin Ich habe Frau Bischoff als sehr kompetent, professionell, freundlich und zugewandt erlebt. Ich bin sehr zufrieden und kann Frau Bischoff bedenkenlos weiter empfehlen.
Äußerst kompetent, professionell und freundlich
Frau Bischof war von Anfang an äußerst freundlich und professionell. Sie hat es geschafft für den Verkäufer den bestmöglichen Preis zu erzielen und auch noch sehr schwierige Miteigentümer mit ins Boot zu holen! Vom Fotografieren des Objektes bis zum Notartermin sehr verlässlich , immer kurzfristig erreichbar. Hätte nicht besser kaufen können. Nur die beste Empfehlung und herzlichen Dank !!
Kompetent und freundlich
Frau Bischoff hat mir beim Kauf einer Eigentumswohnung vom ersten Kontakt bis zum Notartermin tatkräftig und kompetent zur Seite gestanden. Sie war sehr gut erreichbar und hatte immer ein offenes Ohr für meine Fragen. Die Kaufabwicklung ging dank ihres Engagements zügig über die Bühne. Danke noch mal! Absolute Empfehlung!
Hauskauf
Hallo Frau Bischoff, wir danken Ihnen auf diesem Weg für Ihr Engagement- Sie haben uns wirklich professionell bei unserem ersten Hauskauf unterstützt. Ihre Arbeitsweise ist seriös, die Termine beim Bauherren und beim Notar wurden auch durch Ihre freundliche Art aufgelockert. Sie waren immer für uns erreichbar und haben alle unsere Fragen geduldig beantwortet. Wir finden, dass man Ihnen die Freude am Job anmerkt. Bitte machen Sie weiter so!
Zuverlässigkeit-Kompetenz-Rundumservice
Normalerweise bin ich mit Lob eher zurückhaltend. Aber der Immobilienkauf über Frau Bischoff verlief so reibungslos, das auch mal ein paar Zeilen im Internet zum Besten gebe. Bei Frau Bischoff fühlt man sich als Kunde rundum gut aufgehoben. Sie zeichnet sich ganz besonders durch eine große fachliche Kompetenz gepaart mit Empathie und Zuverlässigkeit aus. Alles ist gut vorbereitet und organisiert. Als Kunde wird man zur Sache stets auf dem Laufenden gehalten. Wirklich alles rund um die Immobilie wird von Frau Bischoff perfekt erledigt. Vom ersten Besichtigungstermin bis zum Notar eine wirklich runde Geschichte. Ich empfehle Sie gerne weiter.
Sehr empfehlenswert
Wir haben uns zu jeder Zeit gut beraten und aufgehoben gefühlt.Sehr kompetent und dabei sympathisch.
Beratung auch im schwierigen Umfeld
Die Sache war komplex und kompliziert. Haus aus den 60er Jahren mit neuem Anbau. Schwieriges Umfeld. Überleitung des Kaufpreises in eine Stiftung. Seriöse und zuverlässige Beratung. Kann ich nur weiterempfehlen.
Großzügige Erdgeschoss-Wohnung
Für unsere großzügige Erdgeschosswohnung wurde in einem angemessenem Zeitraum der passenden Käufer gefunden. Während der Verkaufsphase wurden wir über den aktuellen Stand der Verhandlungen informiert.
Kauf Penthouse
Das Penthouse, welches ich erwerben wollte, wurde mit großer Fachkenntnis und zu meiner vollen Zufriedenheit verkauft. Sonderwünsche und Vertragszusätze bzw. -änderungen wurden sofort berücksichtigt und aktualisiert.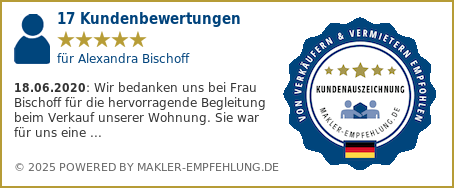 The real estate market in Dortmund
Dortmund is one of the most popular real estate locations and benefits from increasing urbanization. More and more people, young specialists and families are moving from the countryside to the city of Dortmund. Construction projects that address precisely this target group, such as the new residential area on Lake Phoenix in the south or the Hohenbuschei project in Dortmund's east, were built and offered for this purpose. The south and the city center in particular benefit from the new buildings and complex renovations. In contrast, there is still a lot of need for renovation in Dortmund's outskirts. This can also be seen from the prices for condominiums and single-family houses in the more popular districts: In Dortmund's north, the prices for home ownership are relatively low, in the south of Dortmund they are higher. If you would like to sell your house or apartment in and around Dortmund, I would be happy to advise you in a friendly and professional manner.
---
Referencias